In This Issue
Who We Are
CASRA is a statewide organization of private, not-for-profit, public benefit corporations that serve clients of the California public mental health system.
Member agencies provide a variety of services that are designed to enhance the quality of life and community participation of youth, adults and older adults living with challenging mental health issues.
Contact Us
The California Association of Social Rehabilitation Agencies
P.O. Box 388
815 Marina Vista, Suite D
Martinez, CA 94553
Email: casra@casra.org
(925) 229-2300 phone
(925) 229-9088 fax
To reach us: use our Contact Form
Employment Opportunities and Member Agency Information
Our member agencies are continually looking for new employees or volunteers to join their workforce.
To see current openings and find out additional information about CASRA's partners, please click on the agency name.
Please note that the city listed for each organization is the headquarters location. Several CASRA member agencies serve multiple service areas and sites. Check each to learn more.
CASRA Agency Trainings
A benefit of membership in CASRA is receiving 4 hours of training for your staff. Check out our list of offerings.
Social Media
Welcome to Highlights and Spotlights. We created ths section because we want to have a space in the newsletter that focuses on the work of CASRA member agencies as well as updates from CASRA regarding the work we are doing to support our membership. We will feature member agency news, recovery champions, in-depth stories about upcoming trainings and the presenters. We also want to hear from our member agencies as to how we can best support you.
This week we are starting with an update on CASRA.
As you may know, CASRA in the midst of an organizational transition. Debra Brasher, our Director of Training and Education retired at the end of May. We are so happy that she will continue to provide her rich talents to the association as a consultant and trainer and be a source of wisdom for her successor, Joe Ruiz.
Our Executive Director, Betty Dahlquist is retiring at the end of June. It is hard to imagine boxing up and transferring 40 years of experiences, knowledge and information. We are also extremely grateful that Betty will continue to be a source of support to our incoming Executive Director, Chad Costello.
There has been a great deal to learn and put into practice in a short amount of time. Although the past 15 months have been challenging, it has been gratifying to see CASRA agencies and their staff rise to the occasion, while staying true to their values and beliefs. We are excited to take the individual and collective knowledge and experiences from our members and use these to help build the future direction of CASRA so that we can better support our member agencies and those they serve. And, as Chad has said multiple times, this is fun.
More to come...
Homelessness in Venice becomes political flashpoint, LA County sheriff now involved
LA City Councilman Joe Buscaino is running to replace Mayor Eric Garcetti, and he held his first official campaign event on Monday along the Venice Beach boardwalk. LA County Sheriff Alex Villanueva was also in the area. Read More
Oakland hotel converted to homeless residences during pandemic fills in just under a month
Anthony Bledsoe walked with his bicycle through the courtyard of the Lake Merritt Lodge on Wednesday morning, carrying a guitar on his back and in his pocket a Styrofoam cup that read, "Care to Share?" Read More
Homeless activists, medical students urge officials not to clear Sacramento homeless camp
Sacramento activists are urging local law enforcement not to clear homeless encampments starting June 15. Read More

July 20, 2021
11AM - Noon, FREE
Tracy Harris is back to share her insights and lessons learned this past year about taking care of and advocating for ourselves. Tracy was the keynote speaker for CASRA's Spring/Summer 2020 Conference! She delighted us with her flute playing and inspired us with the story of her recovery journey, Come join her in this highly interactive and informative workshop!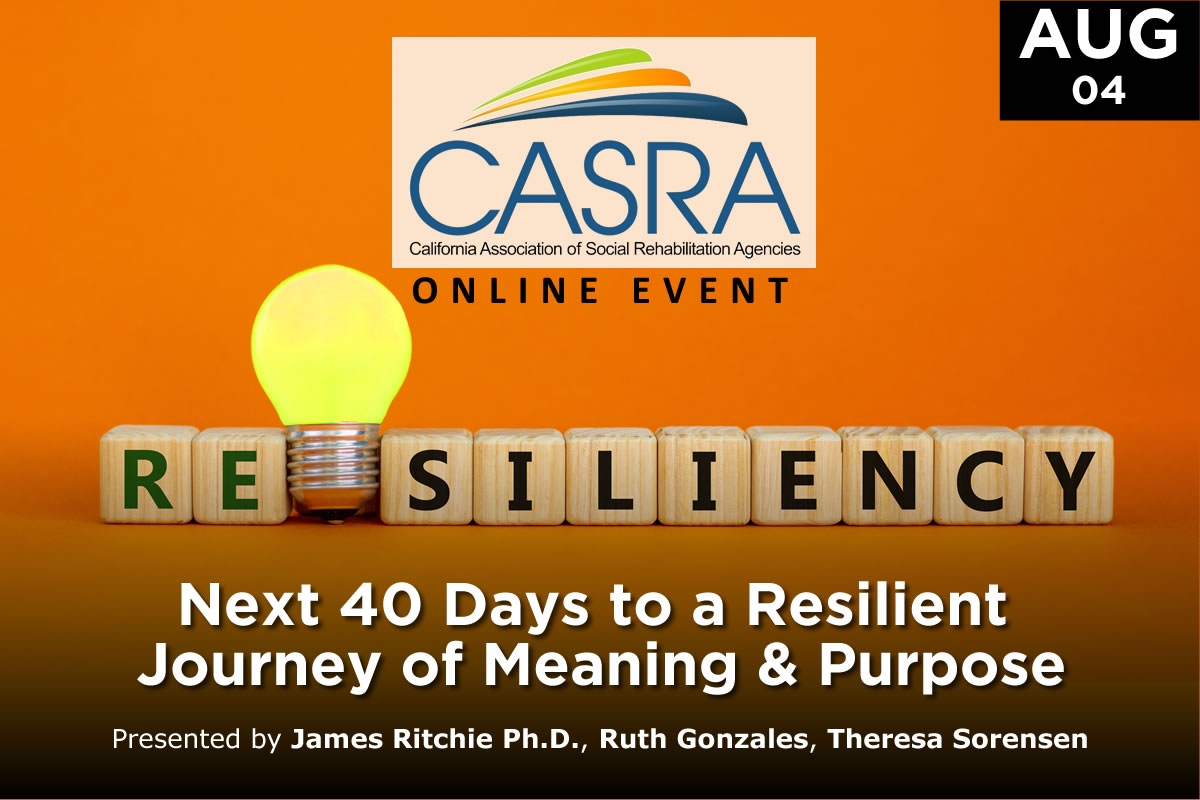 Aug 4, 11, 18, 25,
and Sep 1, 8
11:00 AM - 12:30 PM
Fee: $70 (includes all 6 sessions plus workbook)
Participants who complete this fun, dynamic, engaging, and highly interactive on-line course will gain and/or deepen a sense of clarity of their meaning and purpose. The course also provides practitioners with a first-hand, experiential exposure on how promoting a search for meaning and purpose can foster healing, recovery, and resilience for thenselves as well as the people they serve.
Space is limited for this event!
Registration closes July 21, 2021
Additional Learning Opportunities

Exploring BIPOC Love and Family Relationships and the Impact on Mental Health
Wednesday, June 16, 2021 | 10:00am - 11:30am
According to the current literature, BIPOC love relationships are not in any worse condition than other ethnic racial groups. However, there is evidence that the disintegration of Black love relationships results in the disintegration of Black families. Furthermore, unhealthy love relationships negatively impact one's mental, physical, and even spiritual health. These findings make it very important for responsive strategies for working with BIPOC couples to repair broken relationships. This workshop will provide an overview of the state of BIPOC love relationships, the major factors that negatively impacts those relationship, barriers that prevent couples from repairing broken relationships, and culturally responsive strategies for helping BIPOC couples and families to develop healthy relationships.
This webinar is free of charge
It is not our job to pass judgment on who will and will not recover from mental illness and the spirit-breaking effects of poverty, oppression, stigma, dehumanization, degradation and learned helplessness.
It is our job to form a community of hope which surrounds people.
It is our job to create environments that are charged with opportunities for self-improvement.
It is our job to nurture staff in their special vocations of hope.
It is our job to ask people what it is they want and need in order to grow and then to provide them with good soil in which a new life can secure its roots and grow.
And then, finally, it is our job to wait patiently, to sit with, to watch with wonder, and to witness with reverence the unfolding of another person's life.
Pat Deegan, Ph.D.
Conspiracy of Hope
Commongroundprogram.com