In This Issue
Who We Are
CASRA is a statewide organization of private, not-for-profit, public benefit corporations that serve clients of the California public mental health system.
Member agencies provide a variety of services that are designed to enhance the quality of life and community participation of youth, adults and older adults living with challenging mental health issues.
Contact Us
The California Association of Social Rehabilitation Agencies
Mailing Address:
3350 E. 7th Street, #509
Long Beach, CA 90804
Email: casra@casra.org
Phone: (562) 343-2621
To reach us: use our Contact Form
Employment Opportunities and Member Agency Information
Our member agencies are continually looking for new employees or volunteers to join their workforce.
To see current openings and find out additional information about CASRA's partners, please click on the agency name.
Please note that the city listed for each organization is the headquarters location. Several CASRA member agencies serve multiple service areas and sites. Check each to learn more.
CASRA Agency Trainings
A benefit of membership in CASRA is receiving 4 hours of training for your staff. Check out our list of offerings.
Social Media
Save the Dates - CASRA Fall Conference
Yes, that's right. The CASRA Fall Conference is coming. The dates are October 19th, 26th and November 2nd. Each day's session will be from 9 AM to 12:30 (PDT). We will continue with the virtural format and will keep our fingers crossed for a return to at least some live training in 2022. Now that we have the framework, the Conference Committee is working hard to put together the program. You may want to join them. More to come...
---
Employment Opportunity
CASRA member agency Community Action Marin is looking for a Mental Health Services Director to provide leadership that ensures the delivery of excellent mental health programs in alignment with agency goals. To find out more about this position please click on the agency name below.
In fact, you can find any of the current job openings at any of the CASRA member agencies by clicking on the organization's name in left column.

Please click on either image to join the Zoom memorial on July 20th at 1 PM (PDT)
---
BIPOC Mental Health Month
July Is Bebe Moore Campbell National Minority Mental Health Awareness Month
from MHANational.org
Formally recognized in June 2008 (and currently designated as), Bebe Moore Campbell National Minority Mental Health Awareness Month was created to bring awareness to the unique struggles that underrepresented groups face in regard to mental illness in the US. Bebe Moore Campbell was an American author, journalist, teacher, and mental health advocate who worked tirelessly to shed light on the mental health needs of the Black community and other underrepresented communities. Read More
---
Richard Van Horn Memorial
A Celebration of Life Service honoring Richard Van Horn was held on Saturday, June 10th at St. Mary's Episcopal Church in Los Angeles. It was a fitting tribute to a person who was a mental health advocate, an Espiscopal priest, admired boss, devoted and loving husband and family man, a carpenter, and an accomplished chef and bartender. The service is available for viewing. Watch it here.

Next Week!
July 20, 2021
11AM - Noon, FREE
Tracy Harris is back to share her insights and lessons learned this past year about taking care of and advocating for ourselves. Tracy was the keynote speaker for CASRA's Spring/Summer 2020 Conference! She delighted us with her flute playing and inspired us with the story of her recovery journey, Come join her in this highly interactive and informative workshop!
---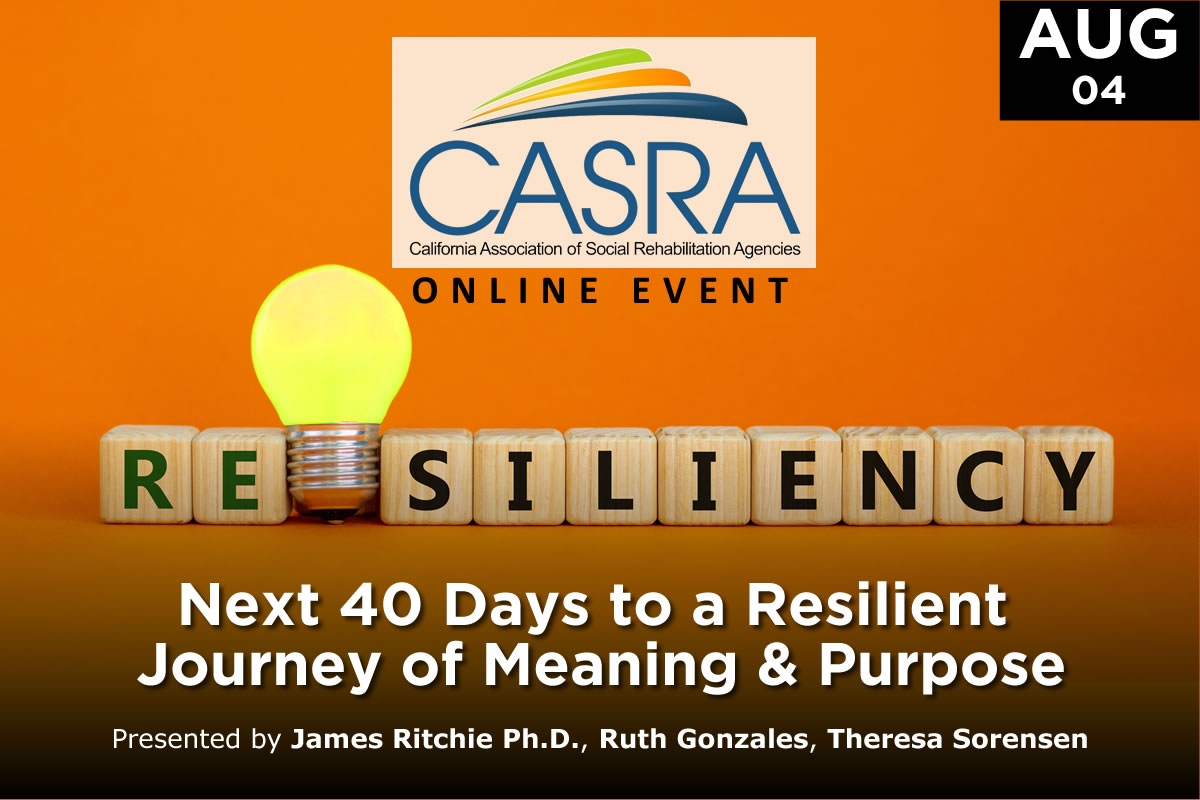 Registration Closes Tomorrow!
Aug 4, 11, 18, 25,
and Sep 1, 8
11:00 AM - 12:30 PM
Fee: $70 (includes all 6 sessions plus workbook)
Participants who complete this fun, dynamic, engaging, and highly interactive on-line course will gain and/or deepen a sense of clarity of their meaning and purpose. The course also provides practitioners with a first-hand, experiential exposure on how promoting a search for meaning and purpose can foster healing, recovery, and resilience for thenselves as well as the people they serve.
Space is limited for this event!
Registration closes July 12, 2021
Additional Learning Opportunities

From Hardship to Hope
Are you a person with a clinical license working with individuals at risk of suicide? Are you interested in sharing your experiences with a research team?
From Hardship to Hope, a peer-led financial wellness program for people experiencing financial hardship and recent thoughts of suicide, is conducting focus groups to get feedback from several stakeholder groups to develop a program that is as feasible, culturally responsive, and effective as possible.

---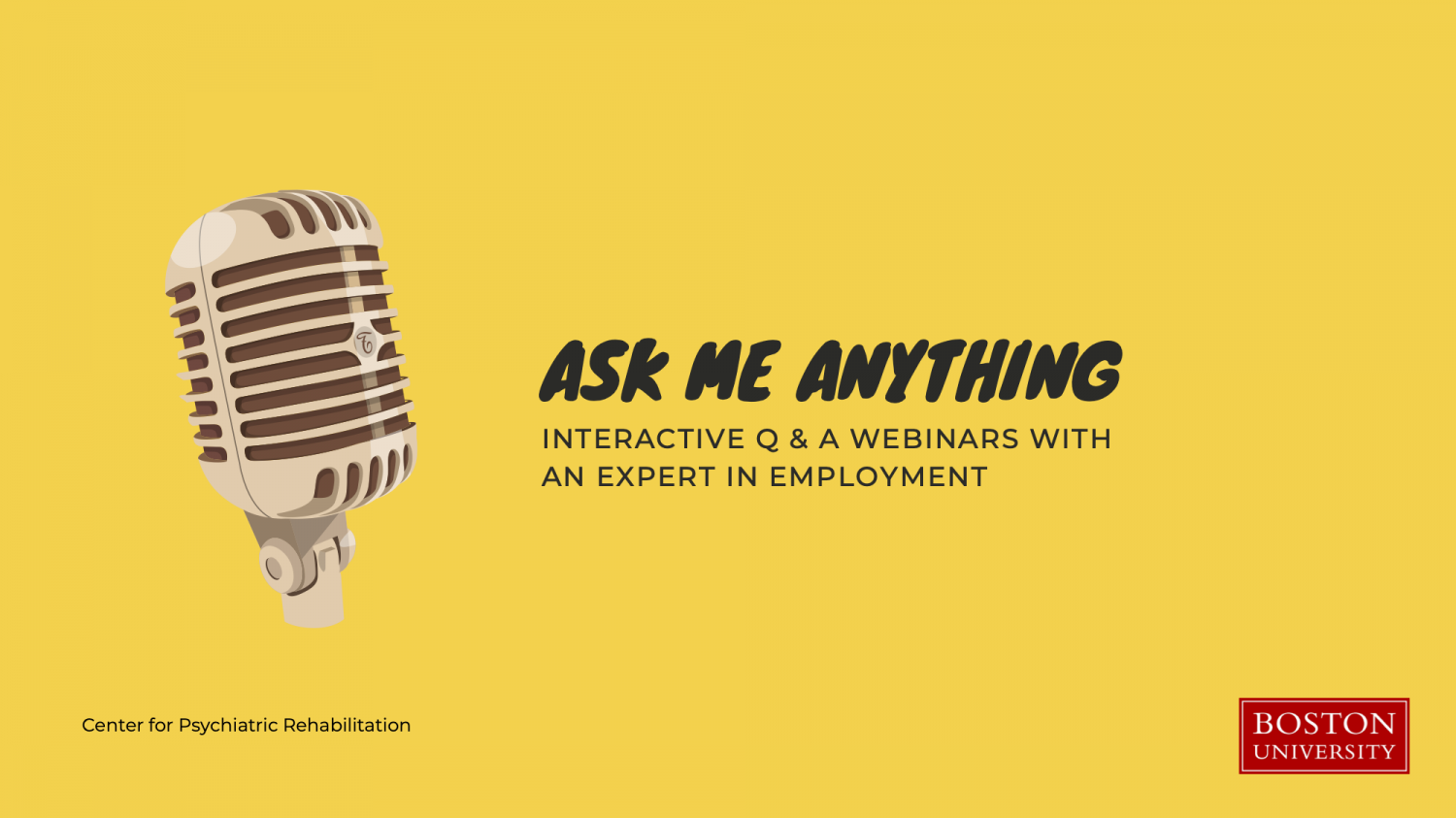 Ask Me Anything
You're invited to ask an expert about another interesting topic related to employment! This free event is not a presentation, but rather an interactive question & answer webinar.
Topic and Presenter
Long-Term Unemployment: A Social Determinant Underaddressed Within Community Behavioral Health Programs presented by Joe Marrone, M.Ed.
Monday, August 9th at 12:00 PM EDT, Free of Charge
"Be curious, not judgemental."
Walt Whitman