In This Issue
Who We Are
CASRA is a statewide organization of private, not-for-profit, public benefit corporations that serve clients of the California public mental health system.
Member agencies provide a variety of services that are designed to enhance the quality of life and community participation of youth, adults and older adults living with challenging mental health issues.
Contact Us
The California Association of Social Rehabilitation Agencies
P.O. Box 388
815 Marina Vista, Suite D
Martinez, CA 94553
Email: casra@casra.org
(925) 229-2300 phone
(925) 229-9088 fax
To reach us: use our Contact Form
Employment Opportunities and Member Agency Information
Our member agencies are continually looking for new employees or volunteers to join their workforce.
To see current openings and find out additional information about CASRA's partners, please click on the agency name.
Please note that the city listed for each organization is the headquarters location. Several CASRA member agencies serve multiple service areas and sites. Check each to learn more.
CASRA Agency Trainings
A benefit of membership in CASRA is receiving 4 hours of training for your staff. Check out our list of offerings.
Social Media
CASRA Conference Committee
One of the exciting things about being a part of CASRA is the opportunity to impact mental health practice on a continous basis. A way we get to do that is through the trainings we sponsor and provide. From the conferences to workshops and training series, we are able to bring recovery and psychosocial rehabilitation practices to our member agenies and the larger mental health field.
We are able to do this with the significant help and support from our volunteers, especially those who are members of the Conference Committee. It is a group of dedicated and energetic people who bring their expertise and passion in developing and providing CASRA's various learning activities. And, they come from CASRA member agencies like yours.
We are looking for people to become part of the group as we move ahead in this next chapter of CASRA. People like you.
If this sounds like something that interests you or someone you know, we want you to join us.
There are just a couple of guidelines to join the Conference Committee:
1. Be from a CASRA member agency.
2. Be willing to meet twice a month for about an hour.
3. Bring your passion and ideas.
If you are interested (or want to volunteer someone) please send an email to joe@casra.org.
Thanks!
Bringing Rights-Based Approaches to Mental Health to College Counseling
By Samantha Lilly
June 16, 2021
from Mad in America
A new article published in the Community Mental Health Journal outlines how the University of Florida's Counseling and Wellness Center (UFCWC) has begun to adopt a rights-based paradigm to mental healthcare, consistent with what has been outlined by Dainius Pūras in his role as the United Nations Special Rapporteur on the Right to Health. Read More
---
Disability Groups Call Supreme Court Ruling on Affordable Care Act a Victory
by Michelle Diament
June 21, 2021
From Disability Scoop
A U.S. Supreme Court ruling upholding the Affordable Care Act is a big win for people with disabilities, advocates say.
The nation's high court ruled 7-2 late last week that several states and two individuals who challenged the constitutionality of the health care law lacked standing. The decision keeps the law known as Obamacare intact. Read More

July 20, 2021
11AM - Noon, FREE
Tracy Harris is back to share her insights and lessons learned this past year about taking care of and advocating for ourselves. Tracy was the keynote speaker for CASRA's Spring/Summer 2020 Conference! She delighted us with her flute playing and inspired us with the story of her recovery journey, Come join her in this highly interactive and informative workshop!
---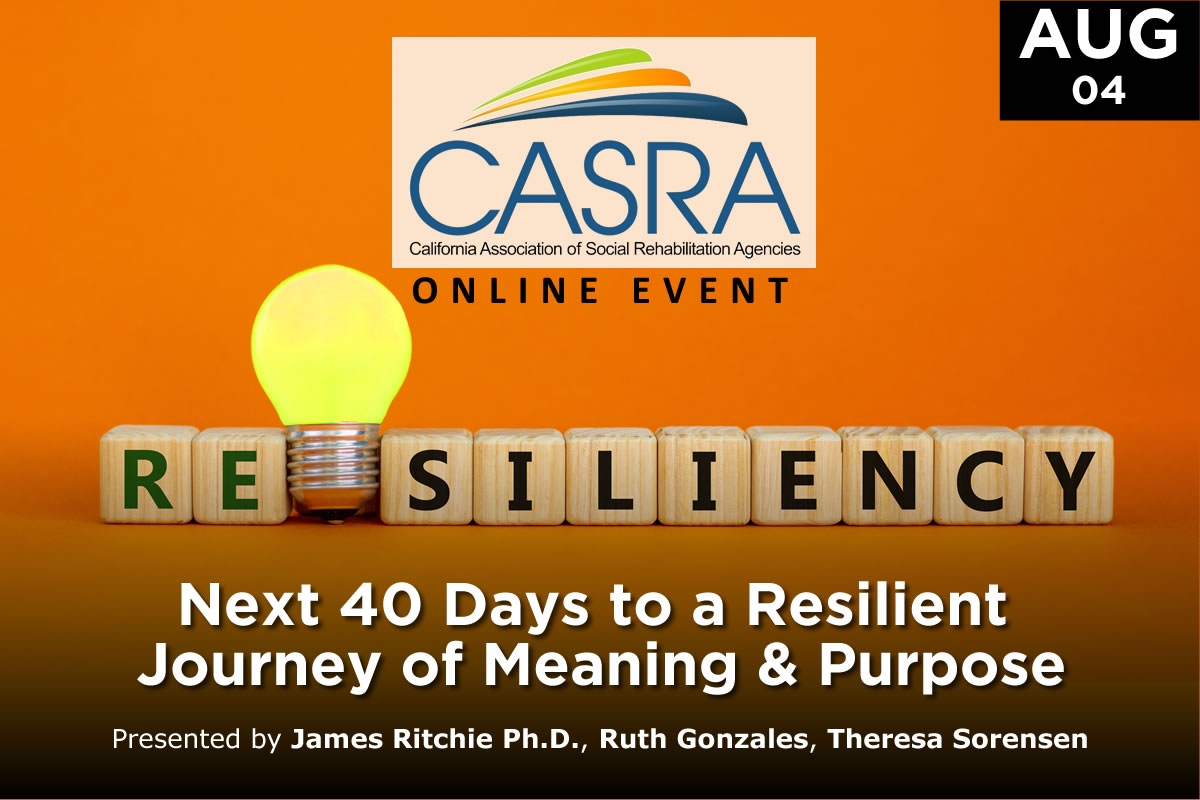 Aug 4, 11, 18, 25,
and Sep 1, 8
11:00 AM - 12:30 PM
Fee: $70 (includes all 6 sessions plus workbook)
Participants who complete this fun, dynamic, engaging, and highly interactive on-line course will gain and/or deepen a sense of clarity of their meaning and purpose. The course also provides practitioners with a first-hand, experiential exposure on how promoting a search for meaning and purpose can foster healing, recovery, and resilience for thenselves as well as the people they serve.
Space is limited for this event!
Registration closes July 21, 2021
Additional Learning Opportunities

The National Coalition for Mental Health Recovery is excited to announce the 35th annual Alternatives Conference, to be held virtually: Thursday July 8th, Saturday July 10th, Thursday July 15th, and Saturday July 17th.
We look forward to connecting nationally and internationally with old friends and colleagues, and to making new connections. We invite all of you to join us from wherever you are. We're excited about having a virtual conference this year so that everyone from anywhere can attend! Thanks to the generosity of our sponsors, the conference is free of charge to attend. There is only a $30 fee for those who require continuing education units (CEs). Your individual donations are also greatly appreciated.
We are called to believe in all these things that are supposedly impossible…but we learn to do them anyway, and we learn to try them, and we don't give up ever.
Richard Van Horn