In This Issue
Who We Are
CASRA is a statewide organization of private, not-for-profit, public benefit corporations that serve clients of the California public mental health system.
Member agencies provide a variety of services that are designed to enhance the quality of life and community participation of youth, adults and older adults living with challenging mental health issues.
Contact Us
The California Association of Social Rehabilitation Agencies
P.O. Box 388
815 Marina Vista, Suite D
Martinez, CA 94553
Email: casra@casra.org
(925) 229-2300 phone
(925) 229-9088 fax
To reach us: use our Contact Form
Employment Opportunities and Member Agency Information
Our member agencies are continually looking for new employees or volunteers to join their workforce.
To see current openings and find out additional information about CASRA's partners, please click on the agency name.
Please note that the city listed for each organization is the headquarters location. Several CASRA member agencies serve multiple service areas and sites. Check each to learn more.
CASRA Agency Trainings
A benefit of membership in CASRA is receiving 4 hours of training for your staff. Check out our list of offerings.
Social Media
Recognition and Honor
In this issue we want to shine the spotlight on CASRA member Idalia Matthews who was recently honored by her agency, Interim Inc at its annual awards presentation. Idalia was selected for the Corey Miller Award which is chosen by her peers for "setting examples of hard work, enthusiasm, compassion, dedication and outstanding service to Interim adults with psychiatric disabilities in Monterey County." Read More
We at CASRA are not suprised because of Idalia's dedication and involvement with the Board of Directors, the Conference Committee and the Vocational Support Group.
CONGRATULATIONS IDALIA!
In case you haven't figured it out, Interim Inc. is a CASRA Member Agency. To shine the spotlight on your CASRA agency and your staff, send an email to joe@casra.org.
---
Resiliency
"This material helps to rejuvenate our team so we can continue with our recovery culture." "What a learning experience!" "Very enlightening course. I intend to share content with family and friends."
"Really enjoyed the class and it was much needed and very refreshing." "The course was very helpful and insightful"
These are quotes from people who attended the Next 40 Days to a Resilient Journey of Meaning and Purpose. If you don't already know, CASRA is sponsoring this 6-session training starting August 4th. The cost is only $70 which includes admission to all 6 session as well as the course workbook.
The deadline for registration is July 12th. This will ensure that participants receive the workbooks before the first session.
Please see the training announcement below for details and registration link.
PBS Presents - Mysteries of Mental Illness
Mysteries of Mental Illness explores the story of mental illness in science and society. The four-part series traces the evolution of this complex topic from its earliest days to present times. It explores dramatic attempts across generations to unravel the mysteries of mental illness and gives voice to contemporary Americans across a spectrum of experiences.

July 20, 2021
11AM - Noon, FREE
Tracy Harris is back to share her insights and lessons learned this past year about taking care of and advocating for ourselves. Tracy was the keynote speaker for CASRA's Spring/Summer 2020 Conference! She delighted us with her flute playing and inspired us with the story of her recovery journey, Come join her in this highly interactive and informative workshop!
---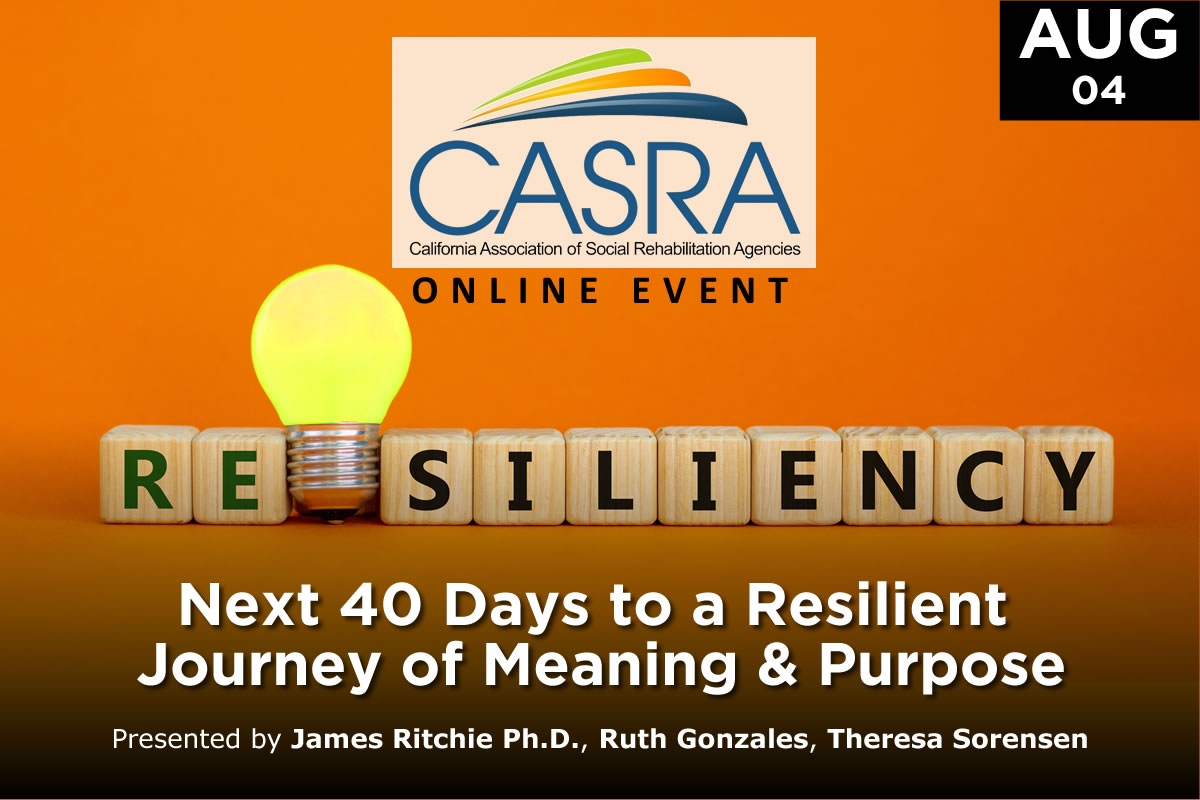 Aug 4, 11, 18, 25,
and Sep 1, 8
11:00 AM - 12:30 PM
Fee: $70 (includes all 6 sessions plus workbook)
Participants who complete this fun, dynamic, engaging, and highly interactive on-line course will gain and/or deepen a sense of clarity of their meaning and purpose. The course also provides practitioners with a first-hand, experiential exposure on how promoting a search for meaning and purpose can foster healing, recovery, and resilience for thenselves as well as the people they serve.
Space is limited for this event!
Registration closes July 12, 2021
Additional Learning Opportunities

The National Coalition for Mental Health Recovery is excited to announce the 35th annual Alternatives Conference, to be held virtually: Thursday July 8th, Saturday July 10th, Thursday July 15th, and Saturday July 17th.
We look forward to connecting nationally and internationally with old friends and colleagues, and to making new connections. We invite all of you to join us from wherever you are. We're excited about having a virtual conference this year so that everyone from anywhere can attend! Thanks to the generosity of our sponsors, the conference is free of charge to attend. There is only a $30 fee for those who require continuing education units (CEs). Your individual donations are also greatly appreciated.

---

From Hardship to Hope
Are you a person with a clinical license working with individuals at risk of suicide? Are you interested in sharing your experiences with a research team?
From Hardship to Hope, a peer-led financial wellness program for people experiencing financial hardship and recent thoughts of suicide, is conducting focus groups to get feedback from several stakeholder groups to develop a program that is as feasible, culturally responsive, and effective as possible.

"The most beautiful people we have known are those who have known defeat, known suffering, known struggle, known loss, and have found their way out of the depths. These persons have an appreciation, a sensitivity, and an understanding of life that fills them with compassion, gentleness, and a deep loving concern. Beautiful people do not just happen."
Elisabeth Kübler-Ross