In This Issue
Who We Are
CASRA is a statewide organization of private, not-for-profit, public benefit corporations that serve clients of the California public mental health system.
Member agencies provide a variety of services that are designed to enhance the quality of life and community participation of youth, adults and older adults living with challenging mental health issues.
Contact Us
The California Association of Social Rehabilitation Agencies
Mailing Address:
3350 E. 7th Street, #509
Long Beach, CA 90804
Email: casra@casra.org
Phone: (562) 343-2621
To reach us: use our Contact Form
Employment Opportunities and Member Agency Information
Our member agencies are continually looking for new employees or volunteers to join their workforce.
To see current openings and find out additional information about CASRA's partners, please click on the agency name.
Please note that the city listed for each organization is the headquarters location. Several CASRA member agencies serve multiple service areas and sites. Check each to learn more.
CASRA Agency Trainings
A benefit of membership in CASRA is receiving 4 hours of training for your staff. Check out our list of offerings.
Social Media
CASRA Update
As the organization has transitioned from Deb to Joe, and Betty to Chad, our contact information has also transitioned.
Our new mailing address is 3350 E. 7th Street, #509, Long Beach, CA 90804. Please send all correspondence this address.
Our new phone number is (562) 343-2621.
---
Resiliency Training Series
This is a reminder of the upcoming Next 40 Days to a Resilient Journey of Meaning and Purpose series. If you don't already know, CASRA is sponsoring this 6-session training starting August 4th. The cost is only $70 which includes admission to all 6 session as well as the course workbook.
The deadline for registration is July 12th and there is a minimum registration of 12 people required for the training to be conducted.
Please see the training announcement below for details and registration link.
Pomona school district defunds police, reimagines school safety
by Melissa Gomez, July 2, 2021, from the LA Times

After a four-year campaign by community activists, the Pomona Unified School District has decided to end on-campus police patrols and instead rely on proctors trained in de-escalation methods, joining a handful of California districts that have moved to defund school police. Read More

July 20, 2021
11AM - Noon, FREE
Tracy Harris is back to share her insights and lessons learned this past year about taking care of and advocating for ourselves. Tracy was the keynote speaker for CASRA's Spring/Summer 2020 Conference! She delighted us with her flute playing and inspired us with the story of her recovery journey, Come join her in this highly interactive and informative workshop!
---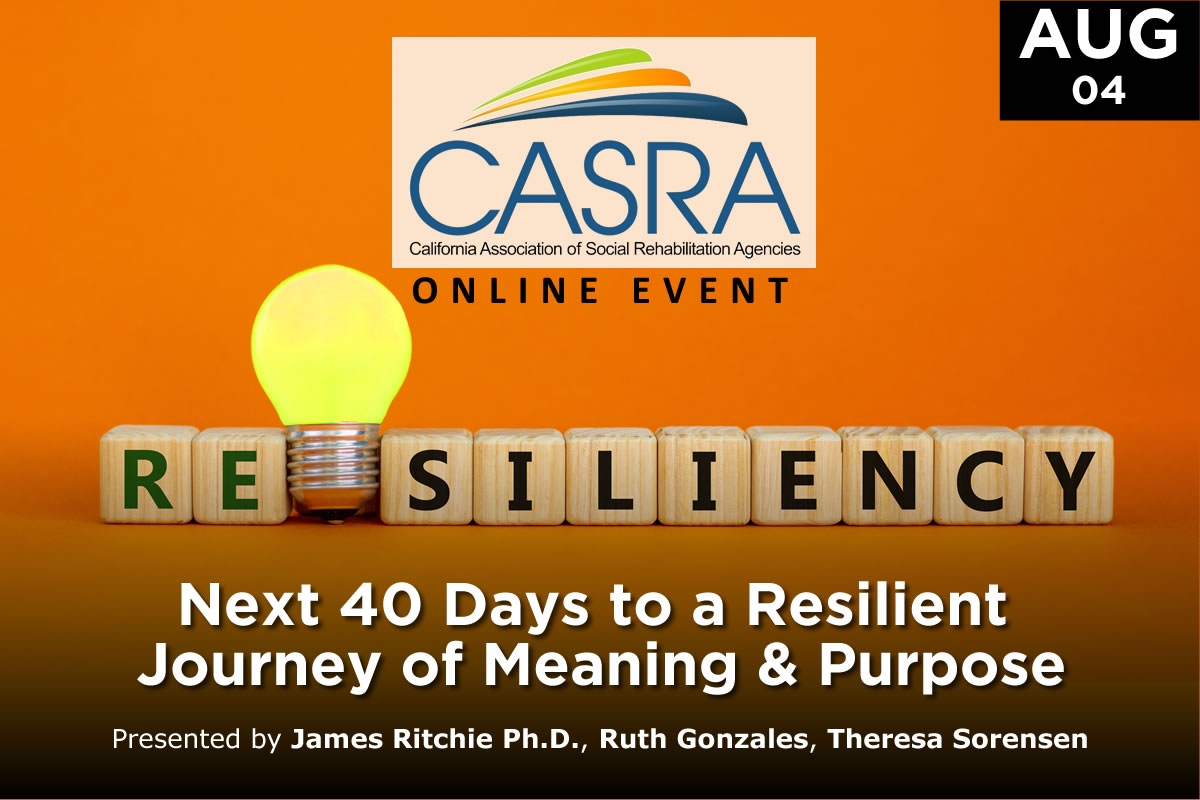 Aug 4, 11, 18, 25,
and Sep 1, 8
11:00 AM - 12:30 PM
Fee: $70 (includes all 6 sessions plus workbook)
Participants who complete this fun, dynamic, engaging, and highly interactive on-line course will gain and/or deepen a sense of clarity of their meaning and purpose. The course also provides practitioners with a first-hand, experiential exposure on how promoting a search for meaning and purpose can foster healing, recovery, and resilience for thenselves as well as the people they serve.
Space is limited for this event!
Registration closes July 12, 2021
Additional Learning Opportunities

The National Coalition for Mental Health Recovery is excited to announce the 35th annual Alternatives Conference, to be held virtually: Thursday July 8th, Saturday July 10th, Thursday July 15th, and Saturday July 17th.
We look forward to connecting nationally and internationally with old friends and colleagues, and to making new connections. We invite all of you to join us from wherever you are. We're excited about having a virtual conference this year so that everyone from anywhere can attend! Thanks to the generosity of our sponsors, the conference is free of charge to attend. There is only a $30 fee for those who require continuing education units (CEs). Your individual donations are also greatly appreciated.

---

From Hardship to Hope
Are you a person with a clinical license working with individuals at risk of suicide? Are you interested in sharing your experiences with a research team?
From Hardship to Hope, a peer-led financial wellness program for people experiencing financial hardship and recent thoughts of suicide, is conducting focus groups to get feedback from several stakeholder groups to develop a program that is as feasible, culturally responsive, and effective as possible.

The CalABLE Program
In the past, the risk of losing public benefits coupled with the high cost of support expenses, limited members of the disability community from building financial security. Until now. Read More
CalABLE is hosting an information webinar on July 14th from 2 PM to 4 PM PDT which will provide tips regarding opening a CalABLE account, avoiding account pitfalls, and answers to common questions. Learn More and Register
---
California Department of Public Health Webinar
The California Department of Public Health's Injury and Violence Prevention Branch and the Violence Prevention Initiative are hosting a webinar "Suicide in California – Data Trends in 2020, COVID Impact, and Prevention Strategies". It will take place on Wednesday July 28th from 1 PM to 2:30 PM. Learn More and Register
"Nobody can save you but yourself, and you're worth saving. It's a war not easily won, but if anything is worth winning then this is it."
Charles Bukowski