One man's lonely journey through California's plan to end homelessness
From CalMatters
by Jackie Botts, January 17, 2022
California's pandemic response marked the start of Maya's journey indoors. Through Project Roomkey, the statewide effort to take vulnerable and elderly people off the street, he was given the keys to a hotel room of his own that June. Later, Maya would credit the program — and Gov. Gavin Newsom — with having ended his homelessness.
Over the course of a five-month stay at a hip West Hollywood hotel, Soria helped Maya renew his application for a federal housing program for veterans, in an apartment complex with 90 affordable units set aside for people experiencing homelessness.
By September, his application was approved. The state would claim Maya as a successful transition into permanent housing — on paper at least. Read More
---
How to help a stranger on the street in a mental health crisis
From the LA Times
Faith E. Pinho, January 19, 2022
You're walking down the street, and you encounter someone crying.
Or perhaps the person seems worked up in another way — screaming at the air or rocking back and forth in distress.
A disquieting feeling follows. Do you attempt to say something? Call emergency services? Or, perhaps the likeliest option, avert your eyes, cross the street and keep moving?
It's not an easy situation to confront. And yet, how to help someone in mental health distress — whether a stranger or a friend — is an essential question in California. Read More
---
New law on mental health curriculum goes into effect with start of the new year
EdSource
Carolyn Jones
January 10, 2022
Health classes in California high schools will soon cover more than nutrition and exercise. Thanks to a new law that went into effect Jan. 1, students will learn about depression, schizophrenia, mood disorders and other serious mental health conditions.
Senate Bill 224 requires all school districts that offer health classes to include mental health as part of the curriculum. The California Department of Education has until Jan. 1, 2023 to incorporate mental health into the state standards, and districts have until Jan. 1, 2024 to begin teaching the new material. Read More
---
'How many people did I get sick?' Testing positive for COVID-19 can bring feelings of guilt and shame
From the Chicago Tribune
Alison Brown, January 6, 2022
She'd thought through the travel for the holiday carefully. Working remotely, limiting activities to school-related outings and curbing any other possibility for exposure.
And still, the second day of the trip, Christine Hutchinson's nose felt sniffily. She thought it was related to travel, or simply being a Chicagoan: "Our noses run."
But when other people within the friend group her family had traveled with internationally also began feeling ill, she took a test. It came back positive for COVID-19. Read More
---
If you or someone you know is considering suicide or self-harm, there are resources available to provide free and confidential support. Call the National Suicide Prevention Lifeline at
1-800-273-8255

or Teen Line at

1-800-TLC-TEEN

or The Trevor Project at

1-866-488-7386

for LGBTQ young people.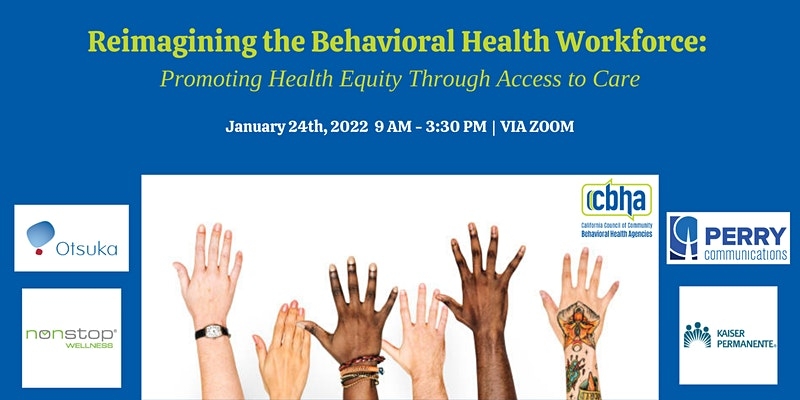 CBHA is excited to host "Reimagining the Behavioral Health Workforce: Promoting Health Equity Through Access to Care" on January 24th, 2022, from 9 AM - 3:30 PM PST. This Virtual Policy Forum gives attendees the opportunity to engage with policymakers and leaders in the behavioral health arena and discuss issues of concern, including youth behavioral health, the opioid epidemic, homelessness, and the behavioral health workforce crisis. Learn More and Register
---

Patricia E. Deegan Ph.D.
The Dignity of Risk and the Duty to Care
February17, 2022, 10:00-11:00a.m. PST
Choice and self-determination are foundational principles of recovery-oriented practice. But if a person is making a choice that steers their life away from recovery, how should staff respond? Patricia E. Deegan, PhD, an internationally renowned speaker and founder of Pat Deegan & Associates, provides training to help you answer this question and others related to the topic. Learn More and Register