In This Issue
Highlights and Spotlights
In this issue of the CASRA Newsletter we continue to highlight AND spotlight a new member of the CASRA Executive Committee focusing on an at-large member, Carol Kossler (she/her), Director of Administration from Conard House. Enjoy!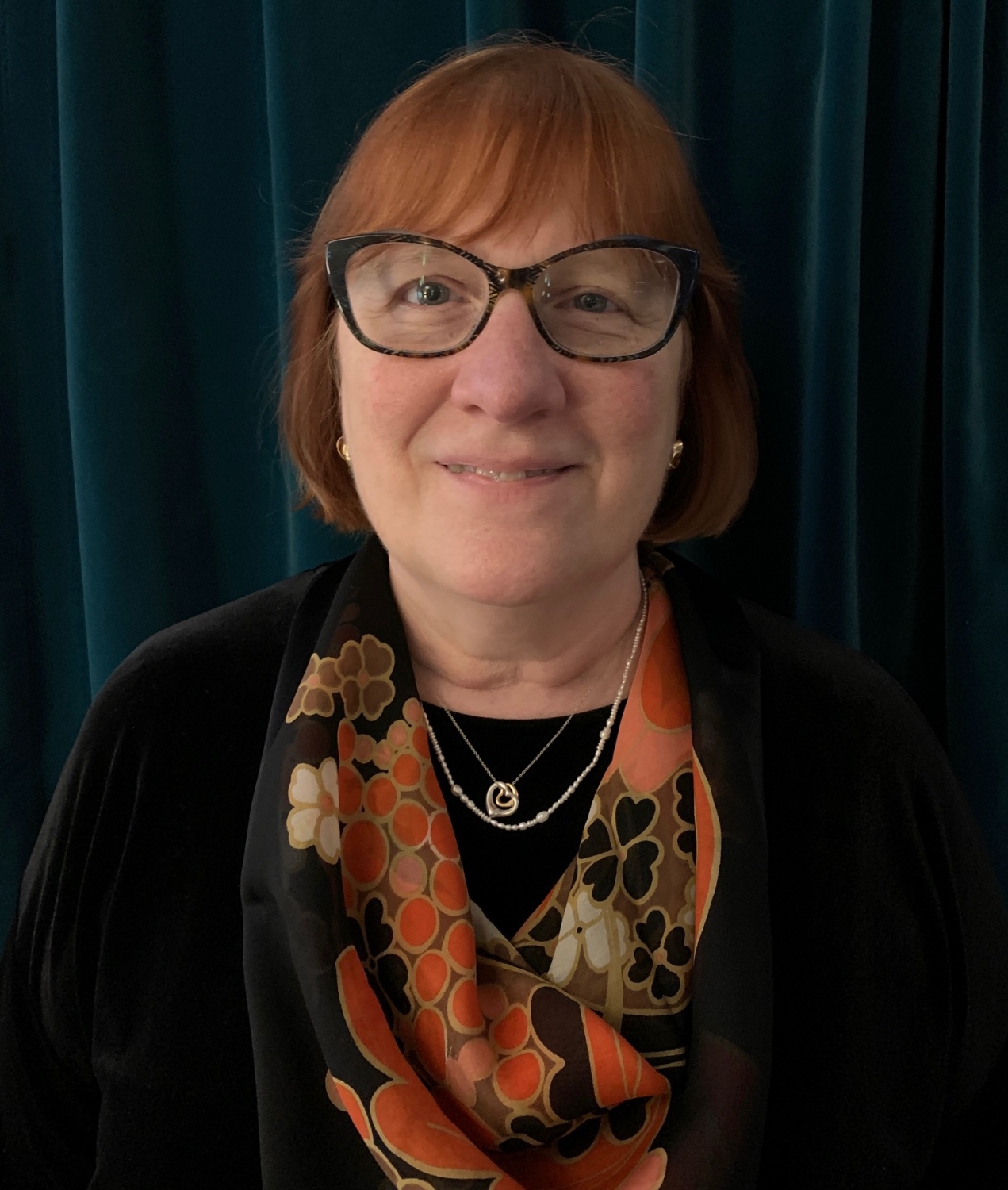 What's your day job?
My day job is the Director of Administrative Services for Conard House, Inc., a nonprofit striving for cultural humility and building welcoming communities and caring relationships that empower people and restore hope. I handle all human resource issues for the organization of approximately 125 staff and 1500 clients and residents. I have the distinction, some would say infamy, of working here for over 38 years, coinciding with my marriage and move to San Francisco. I was an East Coast person before that with a brief stint in the heartland for college. I love living San Francisco and confirmed my identity as an urban person. I wanted a life of purpose, and I thought I would use my BA in psychology to enter the social work or mental health field, however, I have this flair for organization, and I am embarrassed to admit my nickname was Radar after the character on the MASH TV show who anticipated needs and finished others' sentences for them (still do that unfortunately). So I landed in SF and turned a clerical position into founding the HR department at Conard House, as we barely had employee files when I arrived. Growing a department has been a wonderful experience that lasted much longer than I could have ever anticipated.
What do you like most about your work?
I like the people, both the clients we serve and staff who heroically help them. I have so many stories of wonder, heartbreak, growth, generosity, compassion and some of the most unusual happenings our labor law attorney has ever heard. I have often been told I should write a book. I also like that there is always something new and different happening. I keep an open schedule just to leave time for the next the unforeseen thing to happen! Some would say this is unprepared disorganization, and I say it is the controlled chaos called life!
What challenges you about the work?
I would say the growing number of compliance issues and regulations is tough to monitor and follow. While I have a flair for organization that does not translate into a love of all the bureaucratic details.
What is one thing you would like to see CASRA accomplish over the next year?
I would like to see CASRA continue to provide a space for all members to share ideas and provide support to each other. I have truly enjoyed and learned a great deal from the HR support group that Betty Dahlquist initiated during early COVID. At this month's meeting, Chad Costello had to sign off for another meeting and left me with other members still talking beyond our meeting time!
Do you share your food?
I would say that yes, I enjoy sharing my food, but COVID has greatly curtailed my ability to do this. I happily reinstituted my holiday tea parties during our lulls of low infection rates! My mantle holiday decorations are legendary on Zoom calls.
Who We Are
CASRA is a statewide organization of private, not-for-profit, public benefit corporations that serve clients of the California public mental health system.
Member agencies provide a variety of services that are designed to enhance the quality of life and community participation of youth, adults and older adults living with challenging mental health issues.
Contact Us
The California Association of Social Rehabilitation Agencies
Mailing Address:
3350 E. 7th Street, #509
Long Beach, CA 90804
Email: casra@casra.org
Phone: (562) 343-2621
To reach us: use our Contact Form
Member Agency Employment Opportunities and Information
Our member agencies are continually looking for new employees or volunteers to join their workforce.
To see current openings and find out additional information about CASRA's partners, please click on the agency name.
Please note that the city listed for each organization is the headquarters location. Several CASRA member agencies serve multiple service areas and sites. Check each to learn more.
CASRA Agency Trainings
A benefit of membership in CASRA is receiving 4 hours of training for your staff. For more information, please contact joe@casra.org.

CASRA continues to work with State Associations to respond to CARE Court proposals
April 19, 2022

The Honorable Mark Stone

The Honorable Jim Wood, DDS

RE: AB 2830 (Bloom) Community Assistance, Recovery, and Empowerment Court Program–CONCERNS
As amended April 7th, 2022

Dear Chair Stone and Wood:

On behalf of the undersigned statewide provider advocacy associations, which combined represent the backbone of the public behavioral health system, we respectfully express significant concerns with AB 2830 (Bloom) as amended on April 7th, 2022. While we support the intention of the proposal to connect individuals with untreated schizophrenia and psychotic disorders to care, we believe that SB 1338 as drafted does not provide adequate services or housing, does not provide for sufficient due process protections, and has the potential to harm individuals who, given the opportunity, would engage in care and housing voluntarily outside of CARE Court. Read More
---
Oakland's first big experiment in diverting 911 calls to mental health teams has launched. Will it help people on the streets?
From San Francisco Chronicle
By Sarah Ravani, April 16, 2022
Nearly three years after Oakland first contemplated creating a new program to replace police in handling some mental health, homelessness and disturbance calls, the teams fanned out for the first time across parts of the city this month.
City leaders are optimistic that the launch of a new program that sends trained civilian staff to respond to emergency mental health crises will free up police to focus on violent crime, boost the number of 911 responses and de-escalate difficult situations. READ MORE
---
For homeless individuals, getting beauty services and a human touch can be emotional CPR
From LAtimes
By Shirley Raines, April 16, 2022
Over the last six years that I've spent helping the homeless community of skid row with beauty services, I've learned that the needs of our unhoused neighbors extend far beyond the need for shelter.
When someone loses their shelter, they often also lose the things that make us feel worthy and human: the ability to practice self-care, physical connections with others and the ability to have and do things for no reason other than that they make us feel good.
A turning point in my own understanding of the needs of the unhoused came when I saw the complete emotional transformation people had when I did their makeup and washed their hair with my makeshift sidewalk salon setup. Wanting to look good is a valid enough reason to desire and deserve these services, but I learned that requests for beauty items were not purely about vanity. READ MORE
---
Training/Learning Opportunities
The Conference is Coming May 4th, 11th and 18th!

Less than 2 weeks until we begin the CASRA 2022 Spring Conference, "Wellness and the Workplace". We have a great lineup of presenters to help us explore and to reinforce our values, retool and readjust our work to the changing times.
In addition, each day will include a "continental breakfast" with options of an Ask Me Anything session, an activity for mind and body, an informal Question of the Day talk, and a topic focused workshop.
For the Conference Progam of Speakers and Topics CLICK HERE
Registration includes:
Access to All Sessions, All Three Days
6 CEU, CPRP Credits
Can't Attend All 3 Days?
Your Registration Includes:
Access to video recordings from not only this Conference but also:
2021 Fall Conference
2021 Spring Conference
Group Deals
Thinking of sending more than one person from your organization?
Register 5 People, Get the 6th Free
For Individual Registrations, CLICK HERE
Group Registrations, contact joe@casra.org
Registration
$49.99 - CASRA Members
$59.99 - non Members
---
If you are a CASRA member agency and would like to advertise your learning opportunity, training or event for the benefit of other CASRA member agencies, please contact us at events@casra.org.
There are a few guidelines;
You are a CASRA Member Agency
Your event is free of charge
and, as a reminder the Newsletter is published on the 1st and 3rd Thursdays of the month
---
"Be open to new ideas and experiences because you'll never know when someone else will have an interesting thought or when a new door will open to take you on the journey of your dreams."
Ketanji Brown Jackson